"Chess is more than a game or competition.
This is war, theater and death."
— Fabio Stassi
About me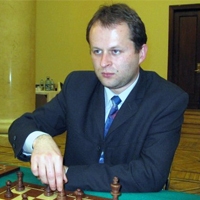 I am a chess player, coach and arbiter. My father taught me to play chess at the age of 8, but I played the first tournament when I was 11. Chess fascinated me from the very beginning not only as a game but as a philosophy of life. After the first school championship I knew that my goal is the title of grandmaster. Currently, I am 44 years old and I am a grandmaster since 2002.
I did not have a permanent coach in my professional career and therefore I knew how important it was to obtain answers to questions which were always deficient. I worked with the best contestants in Poland with Radoslaw Wojtaszek at the forefront. I was the coach of the national team, participant of the contests and European Team Championships.
I am happily married for 9 years, and my wife Edyta, a chess player also, supports me in all my initiatives.
Chess is my passion, that never cease to amaze me and constantly discovers new opportunities. For several months I am bound up with the portal Goldchess.com, which is a new extraordinary challenge for me.
I represent the following clubs: Czech Republic – Labortech Ostrava (bronze medal in 2011), Denmark – Team Nordea Skanderborg, Germany – DJK Aachen, Belgium – Wirtzfeld (silver medal in 2016), Poland – Sz.S.O.N Zaglebie Dabrowa Gornicza, Iceland – Viking Chess Club.
Achievements as coach
PTSz Plock

Polish junior champion team

Joanna Worek (cooperation in 2002-2006)

two-time Polish champion and multiple medalist in various categories
bronze medalist of the World Chess Championship for 16 years

Aleksandra Lach (cooperation since 2003)

fourteen times Polish junior champion and multiple medalist
European champion to 9 years old in rapid chess in 2003
bronze medalist of the World Chess Championship for 10 years in 2004, world vice-champion under 10, 12 and 14 in the years 2005, 2006, 2009
European champion for 12 years in 2007
vice-champion of Europe to 14 years in 2008

Radoslaw Wojtaszek (cooperation in 2002-2005)

six-time Polish champion and multiple medalist
bronze medalist at the 2002 World Chess Championship
vice-champion of Europe in 2003
World and European champion for 18 years in 2004
Polish current leader of the ranking list

Dariusz Swiercz (cooperation since 2006)

quintuple gold medalist at the Polish Junior and multiple medalist
vice-champion of Europe to 14 years in 2007
bronze medalist of the World Cup in 14 years in 2008
in 2009, it is aged less than 15 years the youngest Polish grandmaster in history
world champion for 20 years in India in 2011

Beata Kadziolka (cooperation since 2005)

multiple medalist of Polish championships, bronze medalist for 20 years in 2005
coach of the national senior team
captain of the national senior team
4th place on the European Team Chess Championship in Greece
(obtained the best place for 30 years)
coach and captain of the Polish blind national team
silver medal in the World Team Chess Championship for the blind
captain and coach of the Polish team in the European Team Chess Championship in Warsaw
62 medals on the Polish Championship with the trained juniors
15 medals on the World Team Chess Championship and European Team Chess Championship with the trained juniors
coach youth Chess Academy
coach extra ligue junior KKSz Krakow team
Achievements as player
Polish junior champion for 15 years in 1988
Polish junior champion for 18 years in 1991
4th place in the European Junior Championships
a triple medalist of Polish Junior Championships team
six-time medalist of Polish "Wlokniarz" Bielsko-Biala seniors club
promotion with the "Cracovia" Kraków team to extra ligue
Captain and bronze medalist of Polish seniors club PTSz Plock
silver medal in the Individual Polish Championships seniors Blitz in 2005
three-time participation in the finals of the Polish Championships
promotion with "Drogowiec" Kraków team to extra ligue
winner of dozens "Open" international tournaments in classical chess, rapid, in the years 1991-2013
Awards
Award of the Mayor of Krakow
Award of the Marshall of the Malopolska Region (twice)
Award of the Minister of Sport and Tourism (four times)
Award of the Minister of National Education (twice)